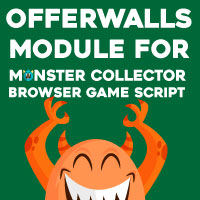 OfferWalls Module For Monster Collector Script
Offerwalls are a great way to monetize your game, your players can earn coins by completing surveys and tasks from ad partners
Overview
Offerwalls are a great way to monetize your game, your players can earn coins by completing surveys and tasks from ad partners who will pay you for each task completed by your players. Everyone wins! Your players earn free coins to grow in the game and you earn money.
How do the offerwalls work?
Coins are automatically added to the player's coin balance upon successful completion of a task. You do not need to create tasks, you just have to register in the sites that provide tasks and surveys, this module comes integrated with 4 companies (wannads, offertoro, adscendmedia and personaly). Follow the integration steps and everything will work in an automated way.
---
An essential module to earn more money
The more ways to earn coins there are in your game, the more loyal players you will have, the offerwalls are perfect to increase the income of the site since many surveys generate a high commission for the administrator which allows offering greater amounts of coins to the players for free.
---
Administrative panel
In the admin panel you can configure the offer walls as well as activate or deactivate them at any time..
---
The module is integrated with the 4 most famous, stable and profitable survey and task providers. We also include in the documentation a detailed guide with illustrative images that will help you make the process of implementing the offerwalls extremely simple.
DEMO: https://demo2.studios23.com
Email: [email protected]
Password: admin


---
Would you like to see a real project working with this module? Take a look at: https://monster-eggs.com
If you have questions feel free to contact us
Features
Integrated with 4 famous, profitable, and stable survey and task providers. (wannads, offertoro, adscendmedia, personaly)
Full configuration guide for each offerwalls
High earnings paid by offerwalls to admin
Coins are automatically added to the user when completing an offer
English and Spanish language file (other languages can be added)
99% of the text is in a single file to be edited and translated
Installation guide
Support team available to answer questions and errors that may occur with the module
When installing the module it is automatically added to the menu and a small presentation is added on the index
Increase user loyalty to return to your website every day
Instructions
Upload the folder "offerwalls" from the "Source" folder of the script on your host inside the folder: play/modules/
Import the database file (SQL/offerwalls.sql) via PHPMyAdmin into the monster collector script database
In the documentation you can see the guide to configure each offer provider (wannads, offertoro, adscendmedia and personaly)