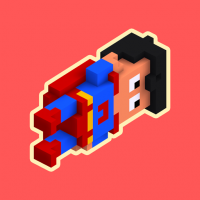 Steel Man - Unity Game Source Code
This is fully created game and everything is perfected to the smallest detail. We attaching 4 video tutorials including quick laun
Overview
Do you want to launch game quickly and without any programming skills? We are giving you the perfect opportunity to launch your own game! Our team created this game specially for you! People who want to create new game! Make a lot of money! And be recognized!
This is fully created game and everything is perfected to the smallest detail! We attaching 4 video tutorials including quick launch video! All scripts are fully commented to help you to understand everything in the coding! So, it's great project for the newbies to understand programming basics and launch it without any difficulties.

Features
Easy to Reskin: The game prefabs  are very easy to change and reskin  with the project files you will get modeling program which will help you to reskin even easier!
It's a game without the end. So, it means that people can play as much as they want and they won't get bored.  This means the revenue from ad networks drastically increases!
Integrated AdMob which will earn you a lot of money!
Tutorial files included: 4 video tutorials to help you navigate in the game project!
Random environment every new game! This makes game even more unique!
Game has different character selection. So, if you create more characters(with modeling program that we will attach with the game project) you can make In App purchases!
High Score Feature: The project has high score feature and an audio notification once he achives or beats his previous high score!
Made in Unity: The game is made in Unity and this means it is Multi Platform. Easy to work with!
Upload to all stores: Since it is made in Unity 3D, you can upload this game to all the stores Unity supports including Amazon, IOS, Google Play, Windows etc!
Unity free version, The project works well with Unity 5including Amazon, IOS, Google Play, Windows etc.!
IOS 10 and Android Nougat(Newest version of Android) Supported!
Instructions
Documentation is available with the project for you to launch and reskin it. Also you'll get 4 video tutorials how to setup including quick launch video!