Photo Editor For iOS
Photo Editor For iOS
By using this app's source code you can create an app with the following features.
Photo Editor For iOS
By using this app's source code you can create an app with the following features.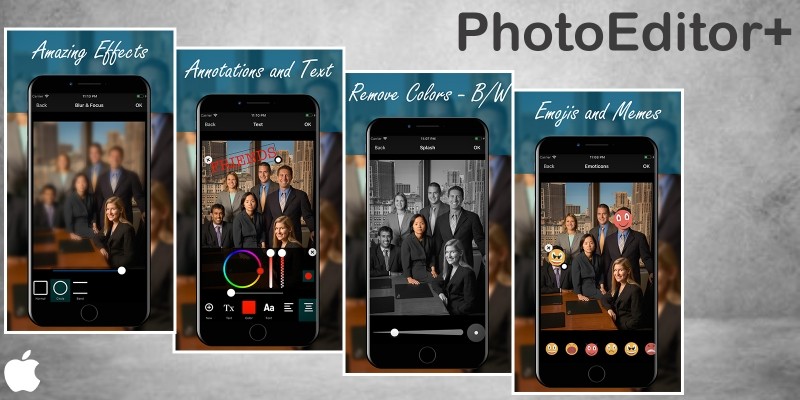 Overview
Professionally designed filters, creative stickers and frames, touch-up tools and more to create and share amazing pics!
Source code is well designed and easily editable.
Help file is included to easily identify the editable areas.
All images are included in the folder - App Preview and icon is also included. Just replace the image with same name in the folder and it will be replaced in the App.
Features
FEATURES LIST:
» User-friendly User Interface;
» Stylize with over 100 free filters;
» Get creative with stunning stickers;
» A whole lot of frames;
» A Gallery of overlays;
» Includes all professional Photo Editing Tools
» Selectively remove and replace color with Splash;
» Color a black and white photo;
» Add drama with Sharpness;
» Draw and add text;
» Crop, rotate, and straighten your photos;
» Draw attention to the subject of your photo with Focus or Vignette;
» Modify brightness, contrast, highlights and shadows;
» Adjust saturation, warmth, tint and fade;
» Resize the photo pixels;
» Share photos to all social networking apps instantly including but not limited to Instagram, Twitter, WhatsApp, Facebook, Mail etc.
» Print, Email or Save your Images.
» iPhone and iPad Version, Universal App
» No Programming Skills Required.
» Detailed documentation.
» Fast and reliable Support.
» Compatible with latest iOS 13
Requirements
Please note that if you are planning to sell in-app purchases in the App or sell the App for a price on the App Store, you will need to purchase an Extended License. See the sidebar for more details.
Instructions
NujoomApps is updating this apps source code every now and then.
Please leave us your feedback at: [email protected]
For a small fee we will be more than happy to compile and launch the source code for you on your AppStore account.
YOU DON'T HAVE A MAC OR XCODE OR NO DEVELOPER ACCOUNT?
We will COMPILE the source code for you.
Will create your Apple account and...
Publish the App on App Store.
Need Extra Support - Just write to us.
Feel free to contact us for App design changes and for designing preview images.
Need an icon designer - we are here for you
ENJOY MOBILE PHOTOGRAPHY LIKE A PRO!
AND