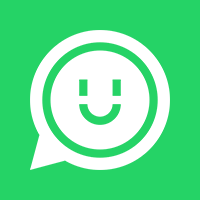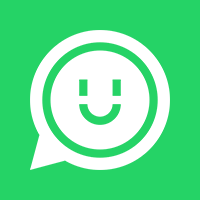 Whatsmoji - Sticker Maker and Status Saver Android
Whatsmoji - Sticker Maker and Status Saver Android
Whatsmoji is revamped with the couple of new features that included a create your own Whatsapp Sticker.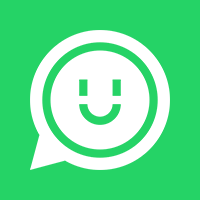 Whatsmoji - Sticker Maker and Status Saver Android
Whatsmoji is revamped with the couple of new features that included a create your own Whatsapp St...
Overview
By using this app you can save, download any whatsapp images, videos or post from whatsapp.
Whatsmoji is revamped with the couple of new features that included a number of stylish text art and a feature to create your own Whatsapp Sticker using an inbuilt sticker maker app.
Preview :
Contact Us:
If you have any concerns or suggestions about Magic Pics, don't hesitate to contact us at our profile page (or giving 5 star rating if you like our product).
Features
Whatsmoji App Features :-
★ Whatsapp Status Saver:
Now it's easy to save and share whatsapp status, videos of any friends that you love the most.
★ Stylish Text Generator:
This app allows you to write a custom message in 40+ different fancy text styles including the blue colour font.
★ Sticker Maker App:
"Sticker Maker" module allows you to create your own custom name sticker. With sticker texts at your disposal, not only will you be able to relax your fingers more, but also create custom name stickers with 30+ different fonts, 20+ brilliant colour combinations styles, 3 million colour options and custom text art.
★ Ready to use sticker packs:
If you are looking for awesome inspiration to create your next best sticker, we have included the 30+ Different Whatsapp Sticker Packs as well, which comes with a handpicked ready to use sticker set. All of your favourite holiday stickers, couple stickers, love stickers and every other emotion all in one place.
★ Personal Sticker for Whatsapp:
A lot of times it happens that we install multiple social media apps and all these applications download sticker packs of their choice, but they are scattered everywhere on our phones. Personal Sticker brings all your stickers under one roof. No matter what app has downloaded it or where it has been stored on your phone, with the personal sticker app section you can find all your favourite stickers in one place.
★ Pencil Sticker:
The Pencil Sticker app lets you draw out stickers of your choice and truly lets your imagination flow.
★ Share Sticker:
Share sticker instantly with your friends through whatsapp.
★ In-built image viewer and video player
★ Admob Ads Integrated(Native and Interstitial)
★ 64 Bit Compatible & Android 11 Supported
★ Full Documentation Support with video


Requirements
1. Android Studio (Updated version)
2. Java (Development language)
Instructions
- Open Zip File and Unzip it. [Android source-code & Documentation]
- Run project with using proper android studio in your PC or Laptop or else.
- After Successful run project use application efficiently.
- Reskin Support