Mo Practice iOS Application
Mo Practice iOS Application
Sleep well, breathe right, become positive, reduce stress and increase positive emotions ✨
Mo Practice iOS Application
Sleep well, breathe right, become positive, reduce stress and increase positive emotions ✨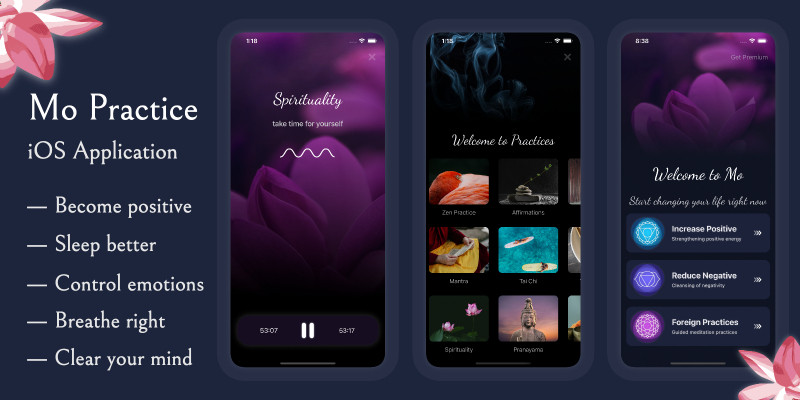 Overview
This application was created to develop the ability to control your emotions, learn to think positively, breathe correctly, feel your emotions and manage them.
💫 Specially selected images, music and breathing exercises will help you feel your best. With regular use of the app, you will notice that you can breathe correctly and strike a balance between good and bad infusions. You will feel a surge of strength, positive energy, find harmony with yourself and inner peace.
The app contains three categories:
🌿 Reducing negative. If you are acutely aware of the presence of negative emotions, then in this category, select the bad emotion that you feel or is similar to it. In order to reduce or eliminate this emotion altogether, choose a time for meditation that is appropriate for you and begin the process. Watch the breathing animation. When the animation decreases — exhale, when it increases — inhale.
🌿 Increasing positive. As with the section on reducing negative emotions, choose the good emotion that you want to amplify. Start your meditation and be sure to watch your breath.
🌿 Foreign practice of meditation. From the distant times of the Far East, Japan and China — all foreign practices have been effective for many centuries. All foreign practices are accompanied by an audio guide. Follow all instructions and try to practice different types of practices regularly in order to achieve results faster.
Features
In-app purchase with 3,99$ weekly subscription
Google AdMob Interstitial 
Professional design 
Audio file storage on the cloud service 
How to set up the project documentation
How to work with RevenueCat documentation
Beautiful animations 
High quality images 
AppStore monetisation 
Modern audio player
Instructions
Follow the instructions from the Main files folder