JobBoard Job Listing WordPress plugin
JobBoard Job Listing WordPress plugin
Job directory listing for employer& candidates with membership
JobBoard Job Listing WordPress plugin
Job directory listing for employer& candidates with membership
Overview
Build a professional job portal using the JobBoard WordPress plugin within a minite.
Just install and use it. The plugin will create all necessary pages, email templates and settings on the plugin installation.
Features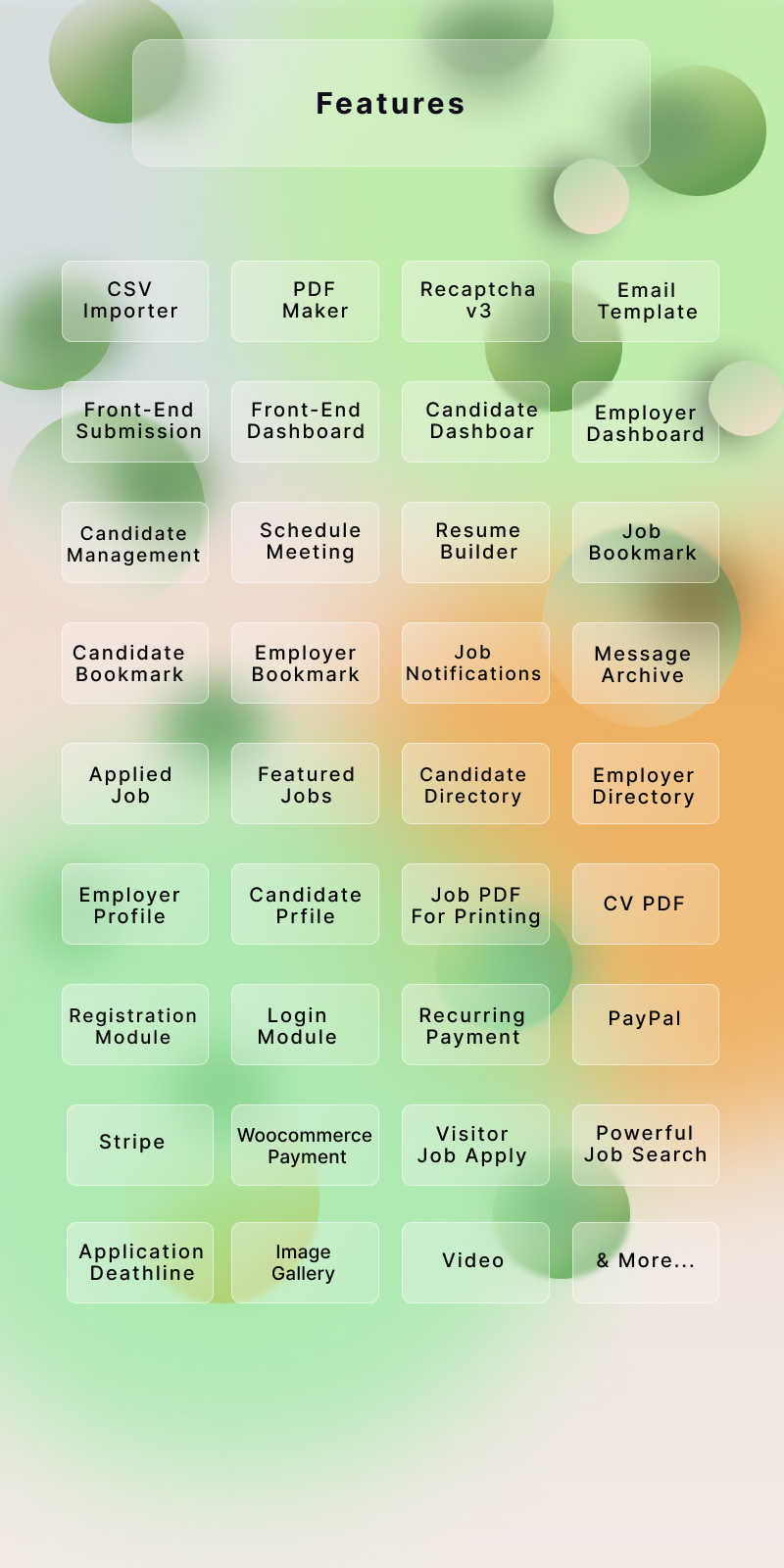 Strong Job search
Ajax Apply
CSV Job Importer
PDF Maker
Payment Gateway

a) Paypal [Express Checkout]
b) Stripe [ Full synchronize with Stripe Plan ]
b) Woocommerce Payment gateway (Any Payment gateways)

WPML
Full Membership

a) Free Account
b) One time Payment
c) Recurring Payment
d) Free Trial
e) Paid Trial
e) Variable Payment Package

Pricing Tables
User Registration
recaptcha v3
job board My account / Front-end Dashboard

User Setting
User Change Password
Manage candidate
Manage Jobs
Message
Job Nitification
Saved Job
Saved candidate
Saved Employer
Resume Builder
Job Applied List
User Photo Upload
User Video Upload
User Blog Post edit/delete
Subscription upgrade
Subscription downgrade
Subscription Cancel

Coupon for Signup

Coupon By Package
Set Coupon limit
Set Coupon expire date

User Role creation by Package
Page Setting
job board Email Templates

Welcome job board Email template
Forget job board Password Email template
Order job board Email template
Order job board Email template
job board Notification Email template
Candidate Apply Email template
Subscription Reminder Email Template
Contact Us Auto reply Email Template
Contact Us admin Email Template

Profile

Employer Directory + Profile
Candidate Directory +Profile

And Lots of other settings for job board, job board WordPress, job listing, job portal, job posting
Requirements
WordPress 5 and upper  & PHP
Instructions
You will be able to download Jobboard files from codester account. You have to find Jobboard.zip and upload it to your WordPress plugin directory. Then You can activate the plugin from the plugin section.