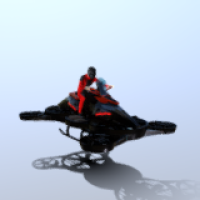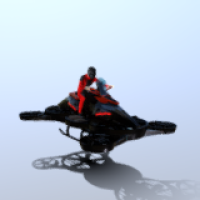 Helix Heli Cycle 3D Object
Helix Heli Cycle 3D Object
A futuristic hover bike that can easily be integrated into any platform to greatly enhance the overall feel for Sci-Fi games, caus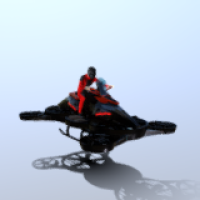 Helix Heli Cycle 3D Object
A futuristic hover bike that can easily be integrated into any platform to greatly enhance the ov...
Overview
The future is here. Say goodbye to congested roads and traffic jams with the Helix Heli Cycle. A perfect description of what the byproduct of crossing a drone and a motorcycle would look like.
Powering the hover are four electric motors and an internal combustion engine that runs on petrol. Upon close inspection, you'll see it uses six blades to lift off and navigate — with two larger blades, front and back, and two on each side. It promises to fly for 40 minutes at up to 100-km/hour. 
Features
Technical details
Polycounts: Vertices: 12.7K, Triangles: 24.
Textures: PBR Textures
Files Format: Fbx, OBJ.
Textures Format: TARGA(.tga)
Number of textures: 10
Texture dimensions : 2048x2048
Number of meshes/prefabs 1
Rigging: No
Animation count 1
Animation type list: Helix_Heli_Hoverbike_Flying
UV mapping: Yes
Instructions
Simple steps to use this 3d model just download and enjoy this model in your 3d game, VR & AR Environment.
We Provide FBx and Obj Format of 3d model.