Quickle Pickle - Buildbox Template
Quickle Pickle - Buildbox Template
A fun game with a silly character who earn coins and runs away from enemies.
Quickle Pickle - Buildbox Template
A fun game with a silly character who earn coins and runs away from enemies.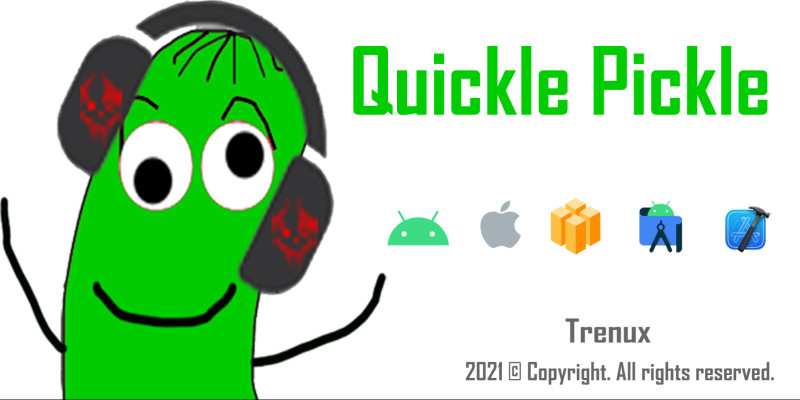 Overview
Buildbox template that can be used to publish to iOS, Android, Amazon, and Windows markets.

The Game:
If you enjoy playing fun games, like food and earning coins, running away from enemies, Quickle Pickle is the right game for you.
This game is suited for all ages, and it is presented with funny characters. The goal of the game is to avoid enemies that want to stop your progress. The game has several levels of increasing difficulty, and each level is unique. Start by tapping the screen and avoid enemies by moving from side to side. When playing the game, you will notice eggs scattered all over the game field. These eggs are coins, which can be used to unlock other levels or characters as follows:
Characters:
Quickle Pickle: No coins are needed to activate
Bun Pickle: 10000 coins to activate
Ninja Pickle: 15000 coins to activate
Gamer Pickle: 25000 coins to activate
King Pickle: 50000 coins to activate
Useful Tips:
Occasionally you might find a hash brown, which will make you invincible for a period of time. Stay clear of salt, pepper, and bacon, to avoid being bounced into an enemy.
A scoreboard keeps track of your progress at the end of each run. Make sure to choose your favorite soundtrack, before starting to play.
Enjoy Playing!

Features
App Features:
Works offline
Endless runner
Multiple characters
Coin Shop
Game soundtrack
Several levels with increasing difficulty
Power ups
Score display
Sound On/Off Option
Easy Reskin
Addictive
Requirements
Requirements:
Buildbox Classic aka Buildbox 2
Android studio for Google Play
XCode for App Store
Any image editing software
Instructions
Instructions:

Included full buildbox classic manual or
visit Buildbox Classic Learning Center at: https://www.buildbox.com/tutor...

Buildbox:
Open the Zip file
Open the. bbdoc file
Using the Setting option replace app icon, package name
Replace the game's images with your images matching the dimensions
Replace the music and sounds effects
Change the necessary information in project Setting with your own. Especially the game name and the bundle ID.
Using File/Export option export the app for iOS, OSX, Android and Windows file for store submissions
Google play/Android Studio
Import the project into your Android studio.
Run and test the app on Android Device/Emulator.
Build .aab app bundle.
Publish app in the play store.
App Store/XCode
Import the project XCode.
Resign bundle
Run and test the app on Emulator and iOS device.
Archive the project.
Publish app in the App store