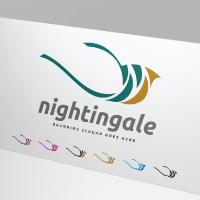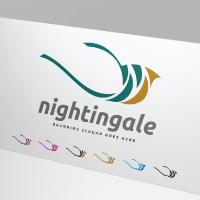 Travel and Tourism Nightingale Bird Logo
Travel and Tourism Nightingale Bird Logo
nature, holiday, landscape, sky, tour spot, travel logo, travel, spring, nature beauty, wing, summer, winter, airlines, aviation
Overview
Logo represents the main concept of tourism brand, travel spot, wildlife photography, bird shop, mart, pet care and mostly cover the fashion branding.
---
100% clean editable and resizable vectors
Fully expanded shapes and closed paths
Fully Editable logo colors, vector symbol, brand name, slogan
CMYK 300PPI
---
06 multiple aesthetic color variations
Grey scale variation
Black and white version
Free downloadable font
100% ready for press print
Features
Zip File Formats:
Ai illustrator CC2020
Eps illustrator CS6
JPG Preview according to main logo variations
Read me file linked with the free downloadable font
---
Preview demonstration is not included in the main zip file.
It's only for the presentation purpose.
Unzip your desired file.
Open help.txt file and download/install font from the link given.
Thank you for your recommendation.
Other items by this author
Free support
Future product updates
Quality checked by Codester
Lowest price guarantee

Buy Now
Buy this item with Great discount for limited time. Grab it now before you are too late!
Additional options
Professional Logo Customization

Get the logo customized to your needs.

$99

Buy now
For custom development work and installation services you can request a FREE quote directly from the author of this product.
Request a Free Quote
Information
Category
Graphics / Logos / Travel
First release
15 October 2022
Last update
15 October 2022
Files included
.eps, .ai
Tags

ecommerce

,

flying

,

bird

,

Animal

,

fashion

,

tourism

,

nature

,

Holiday

,

travel

,

Colorful

,

garden

,

wing

,

fair

,

summer

,

silhouette

,

season

,

aviation

,

zoo

,

hexagon

,

landscape

,

sky

,

winter

,

spring

,

glamour

,

wildlife

,

isometric

,

freedom

,

drawing

,

vacation

,

autumn

,

PET CARE

,

feather

,

singing

,

Travel logo

,

national

,

aviary

,

nightingale

,

airlines

,

orange black

,

tour spot

,

nature beauty

,

morning beauty

,

bird nest