CheetahWeb - Android WebView App with Admin Panel
CheetahWeb - Android WebView App with Admin Panel
Convert your website to Android application in 5 minutes





Average rating of

2.0

based on

1

votes
CheetahWeb - Android WebView App with Admin Panel
Convert your website to Android application in 5 minutes





Average rating of

2.0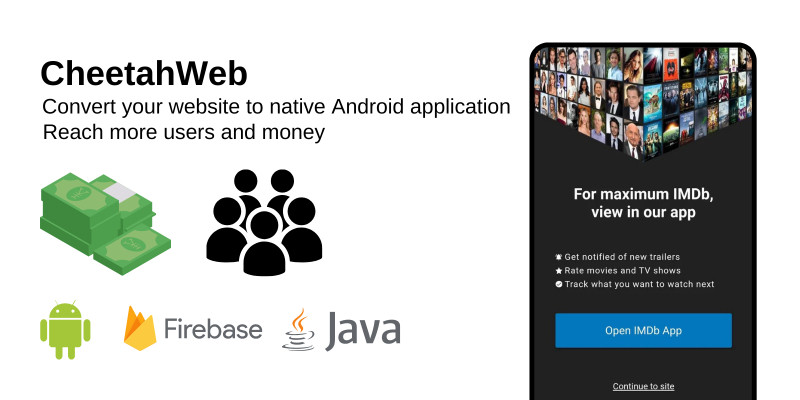 Overview
Convert your website to native Android application in 10 minutes. Reach more users and money.

---Features---

Easy to setup: Setup in just 4 steps

Admin Panel Manage your application from admin panel

Maintenance mode If you are editing your website, you can put the application in maintenance mode

Android 13 Support: Cheetah is compatible with the latest android version

Fully Customizable: You can change it as you wish and add new features

Custom Toolbar: You can change background color and menu items

Navigation Drawer: You can remove the slide menu or you can set it by your own choice (options, and new page and more).

Splash Screen: Animated splash screen. You can change color, text,background

Custom Loader: You can choose and use from 15 different loaders

Push Notification: Send notification your users in seconds

App rating dialog: Advanced rating system

Feedback: You can get feedback from your users with feedback screen

Media Support: Cheetah supports video (Youtube, vimeo, HTML5 videos etc), audio(.mp3, .wav etc), all image format and animated image (.gif).

Admob: You can earn money by showing banners and interstitials ads

Ekstra Screens: No internet screen, Not found page screen, About screen, App rating window

In app billing: You can make money by selling digital products.

Support HTML5 Game: You can convert your HTML5 games to native android application

File Upload/Download: Cheetah will allow you to upload and download files.

Fullscreen: If you want, you can remove the toolbar and use it in full screen.

Pull to Refresh: You can quickly refresh the page

Javascript Support: Cheetah supports every JavaScript Dialog

Easy to setup: It's very easy to setup, just enter your website address and customize it

24/7 Support: We answer your questions as soon as possible

Reskin Service: You can use our reskin service, If you want







Reskin Service:[email protected]

Help and any question:[email protected]
Have a nice day

Features
Fast
Support Android 13
Push Notification
In-app-billing
Admin Panel
Maintanence Mode
and more...
Reviews
2 weeks ago

Rating:

without words. I bought this item asking first if it worked with sdk 33 and android 13, they immediately replied saying yes. the discovery was that understanding it with their indication that it was updated in January 2023 as on the site instead I found myself with the project stopped with the sdk version 30 and updating from 31 upwards the whole project freezes and gives compatibility errors with code. I asked that it was essential for me that it worked on my pixel 7 pro with android 13.... and instead I couldn't even debug! I asked for a refund and they never replied. I strongly advise against it also because this way of giving reassurances and then disappearing is not serious. buy it only if you want it to work on mobile with android 9 and 10.