WhatsTool - Whatsapp All tools App Android
WhatsTool - Whatsapp All tools App Android
• Choose from thousands of emoticons • Customizable Text • Copy to Clipboard • Share to anyone • Direct Send • Customi
WhatsTool - Whatsapp All tools App Android
• Choose from thousands of emoticons • Customizable Text • Copy to Clipboard • Share to anyone • ...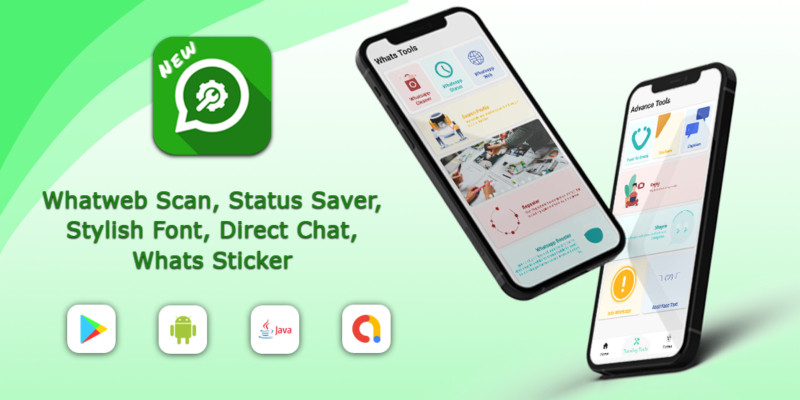 Overview

WhatsTool – Whatsapp all tools App (V1.0)
Android Whatsapp Auto With Admob Banner and Interstitial ads Integrated. WhatsTool is 33sdk supported
WhatsTool Would you like to open two account in same device or same account in multiple devices then WhatsTool for you. Now you can use same account in multiple device.
WhatsTool is the best Whatst app which contains various tools like Whats Sticker, Direct Chat, Status Story Saver, Whats Web, Scanner And QR Code Generator etc. Get all these tools Whats Web, Status Saver or Status Downloader, Whats Direct Chat – Direct Chat without saving numbers, Sticker Maker, etc in this WhatsTool Scan app.
Main Extra Key Feature of WhatsTool :-
• You can replay to any of your friend and get response back.
• WhatsTool app in Images / Videos Download and Forward
• WhatsTool automatically sync all the chat messages.
• Use Whats web scan by scanning code
• You can open and read any chat from this WhatsTool.
• WhatsTool app in Message Read / Replay and Send
WhatsTool Main Features : –
STATUS SAVER :- Status Saver can download statuses in your device so that you can keep it permanently even original status expires after 24 hrs.
Status Downloader – Status Saver is very easy to use and it works on every Device.
WHATS WEB :- Start using now by downloading this WhatsTool scan app and use the amazing feature. Follow the simple three steps and use dual chat feature.
• Open WhatsTool scan app where you get the QR Code.
• Open Whats App on another mobile and go to 3 dots on top right corner.
• Open WhatsTool option and Point to the earlier opened QR Code.
That's it and now you get sync all the chat on the mobile where you have installed the WhatsTool.
STYLISH FONT :- Use our cool text generator & stylish font creator as font whats trick and start conversations with lovely fun fonts for amazing looks! With Chat Styles, you can write text with cool fonts and send message on Whats, Messenger or many social network in stylish text. Chat with your friends with special characters in very cool and beautiful way.
QR CODE GENERATOR & SCANNER :- QR Code Generator & Scanner is a very simple and useful application by which, you can create your own custom Bar-code image. you can use this bar code image for advertisement, for sharing information and being a part of modern world..
WHATSAPP DIRECT CHAT :- Most of the time we do not want to save number for checking What application number and also want to start direct chat without saving the number. So now, you have this Whats web with Direct chat option. There are simple three steps.
1) Open Direct Chat option from WhatsTool.
2) Select country code, enter number and text message.
3) Hit send button.
WhatsTool New tools :–
FONT TO EMOJI CONVERTER :- Text to Emoji converter for whatsapp is the best tool to draw letters and words made up of emoji. Create Emoji text and share it with friends, family, or in groups by copying the emoji art or directly sharing it.
Now say goodbye to simple text messages when the text to emoji converter is here. Making text from emoji has never been so easy.
Font to Emoji Features :-
• Choose from thousands of emoticons
• Customizable Text
• Copy to Clipboard
• Share to anyone
• Direct Send
• Customize the Emoji Text
• Also has Text Repeater
STICKER :- WhatsTool helps to easily express your emotions, send stickers on WhatsApp instead of emoji, keyboard type and make your overall chat looks more fun than the usual text and emoji. You can even use these stickers to reply on status & groups. Our sticker packs are small and light weight, and you can add them easily to your collection to share & chat with others
CAPTION :- Caption feature option is also provided in WhatsTool app in which you can copy paste the caption anywhere and also share it so that the caption can be sent directly to the WhatsApp app.
MESSAGE REPLAY :- This is fentastic feature you are able to reply message automatically. There is special feature of reply according to message. You can send message as you define on predefine person. So you can only reply to those message and those person whome you want to reply.
Hopefully you will enjoy this amazing app.WhatsTool is still in development period so your feedback is welcome. If you have any questions or modify customized app, don't hesitate to contact us on [email protected] .
Thank you.