Assistive Touch - Android App Source Code
Assistive Touch - Android App Source Code
Assistive Touch for Android - Assistive Touch Button - Assistive Touch Swipe - Touch-EazyTouch IOS
Assistive Touch - Android App Source Code
Assistive Touch for Android - Assistive Touch Button - Assistive Touch Swipe - Touch-EazyTouch IOS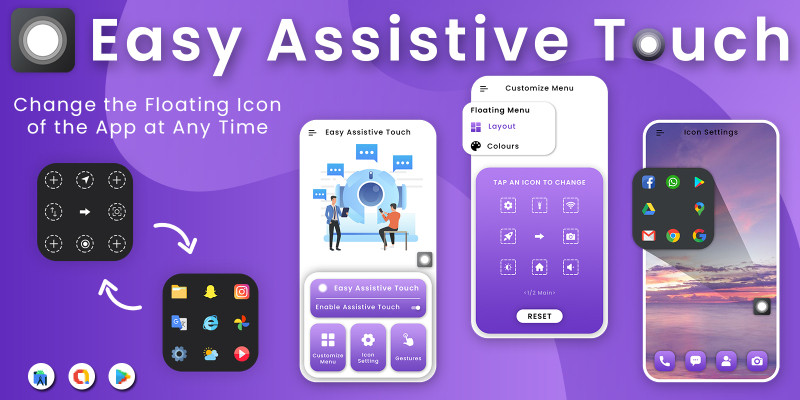 Overview
Assistive Touch for Android - Assistive Touch Button - Assistive Touch Swipe - Touch-EazyTouch IOS
Assistive Touch is an alternative to the Home Button. Easy to use application for Android devices.
We bring you easy to use assistive application application. It acts like a virtual home button which allows accessing your favorite phone settings and apps easily and quickly.
With the simple to use floating panel on screen, you can control your smart phone and have quick access to all your settings, apps, tools and buttons. It's simple, fast and easy to use.
Assistive Touch is an easy tool for Android devices. It's fast, it's smooth, and it's totally FREE.
Screen Recording and Capture Screenshot:
Precise and clear screenshots, screen recording with sound helps you access this feature easily. Yon can select video quality as desired. You can also record mic voice while recording.
Virtual Volume key, Virtual home button and virtual back button:
Customize the volume source and volume control, easy to touch and control lock screen. A quick touch to change the sound mode, level and volume with the virtual volume key.
With a floating panel on the screen, you can easily use your Android smart phone. More conveniently, you can quickly access to all your favorite apps, games, settings and quick toggle. You can use smart clean function to clean running background apps, help your phone faster. Assistive Touch is also an ideal app to protect the physical buttons (home button and volume button). It is very useful for big screen smart phone.
Easy Assistive Touch Button allows you to easily set and customize your own quick touch button where you can add selected apps and tools to quickly access and open them no matter what app you are using at the moment. Meaning you will save time and daily frustrations with personal touch.
Features
- Home
- Back
- Lock
- Clean
- Screenshot
- Recent Apps
- Settings
- Flashlight
- Turn on/off Wifi
- Turn on/off Mobile Data
- Turn on/off Bluetooth
- Scree rotate
- Airplane mode
- Location on/off
- Sound mode
- Volume
- Do Not Disturb
- Camera
- Power Long Press
Requirements
Android Studio
Android
SDK JDK/JRE
AdMob Account
Play Store Account
Instructions
Unzip Project File
Open Project File On Android Studio
Run Project
Change UI Design Colors, App Logo And Splash Screen Image For Reskin.
Other items by this author