300 RPG And Fantasy Icons Pack
300 RPG And Fantasy Icons Pack
A collection of RPG fantasy graphics icon set! Our set includes all the essential items that every RPG fan would recognize, such a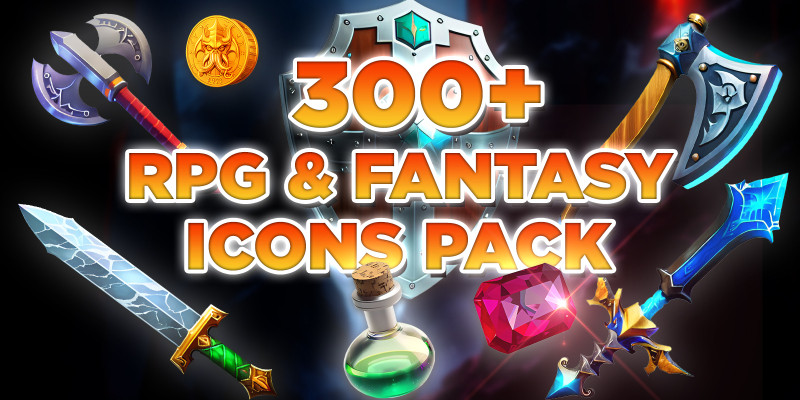 Overview
Welcome to our collection of RPG fantasy graphics icon set! Whether you're a game developer looking to enhance the visuals of your RPG game or a gamer who wants to add a touch of magic to your digital experience, our set is the perfect solution for you.
Our set includes all the essential items that every RPG fan would recognize, such as swords, axes, and shields. With these weapons, players can outfit their characters for epic battles against monsters or other players. Our intricate designs and attention to detail will make players feel as though they are wielding real weapons in the game.
No RPG game is complete without magic potions! Our set includes a variety of potions that can be used to heal wounds, enhance abilities, or grant temporary invincibility. These potions are perfect for adding an extra level of excitement and strategy to any game.
In addition to weapons and potions, we also offer gold coins, gems, diamonds, and treasure chests to help players accumulate wealth and valuable items. Our set includes a range of sizes and styles, making it easy to customize the look and feel of your game.
Overall, our RPG fantasy graphics icon set is a great investment for any game developer or gamer looking to take their RPG game to the next level. With its high-quality designs and attention to detail, it's sure to delight players and make any game feel more immersive and magical.
Features
PNG+ALPHA

Axe Set 1 = 30
Axe Set 2 = 30
Coin Set = 20

Diamond Set = 45
Magic Potion Set = 40
Shield Set = 60
Sword Set 1 = 20
Sword Set 2 = 30
Treasure Chest Set 1 = 20
Treasure Chest Set 2 = 20

Requirements
The PNG images are ready to be used with transparency.
Instructions
All images are PNG with transperancy so just drag and drop them into your favorite game engine or image editing so
Other items by this author