8 Bit Fox - Platform Game Buildbox Template
8 Bit Fox - Platform Game Buildbox Template
Wonderful Template for Making No Code Old School Platform Games





Average rating of

5.0

based on

2

votes
8 Bit Fox - Platform Game Buildbox Template
Wonderful Template for Making No Code Old School Platform Games





Average rating of

5.0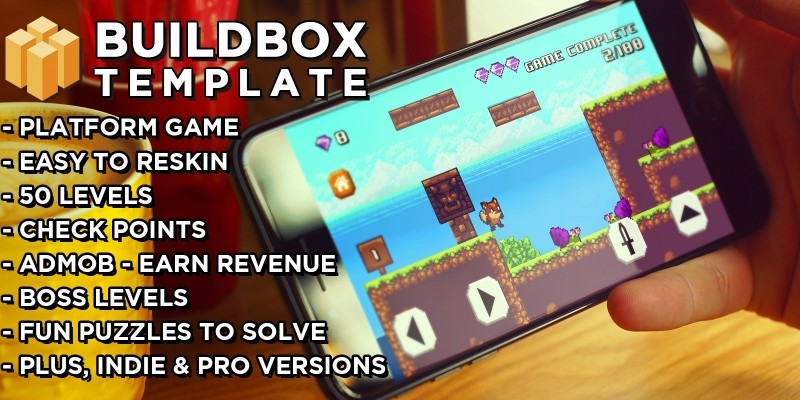 Overview
IMPORTANT: This template is not compatible with new Buildbox Free or subscribed Buildbox 3 version. This template was done with old Buildbox 2 software. In order to use this you need to have a valid Buildbox 2 licence.For more info please contact [email protected] Thank you.

This template brings every need to make an old school platformer game using Buildbox 2 and its latest features. Run, hop on enemies, throw knifes and fight against Big Boss Enemies. You name it. Check the video preview for full gameplay and platformer madness!
If you want to playtest the game a reskinned different version of the game links are below. It is the same game only with different characters and background graphics.
iOS: https://apps.apple.com/tr/app/...
Google Play: https://play.google.com/store/...
Wonderful 8 bit artwork by Artist Anzimus is used in this template. Images that you see in the preview video and screenshots exist inside Buildbox project but they are not included as extra PNG files. But you can still find the game images and more, and download them from the Artist's website below.
Music is not included in the project.
Features
-Platformer Template with 50 Hand Crafted Levels
-Jump On Enemies to Kill System
-Total of 4 Bosses
- Admob - Earn Ad Revenue
-Check Point System - So player starts where he/she left off even the device is turned off.
-Remove Ads in app
-Fun Puzzles using Physics
Requirements
For Android – You will need Android Studio.
For iOS – You will need macOS with Xcode 9+
You will require a Buildbox 2 Software with valid Subscription
Buildbox 2.3.8 + Required. Build is B#2516
https://www.buildbox.com/forum/index.php?threads/buildbox-2-3-8-beta-2515.17461/   - In this thread in first page below version 2516 is also available for download.
3 different project files are included for different subscription methods which are PLUS, INDIE & PRO for Buildbox software. Please check below link for specs.
Instructions
Project is very easy to reskin. Please Open The Help File and Follow the Instructions.
Reviews
Sep 13, 2019

Rating:

Hello there! can you send me the android studio file? I got some error with my buildbox so i cant open it. Thanks

Sep 9, 2019

Rating:

Awesome game