BotBrain ChatGPT - Flutter Application With Admob
BotBrain ChatGPT - Flutter Application With Admob
BotBrain is artificial intelligence application in android and IOS
BotBrain ChatGPT - Flutter Application With Admob
BotBrain is artificial intelligence application in android and IOS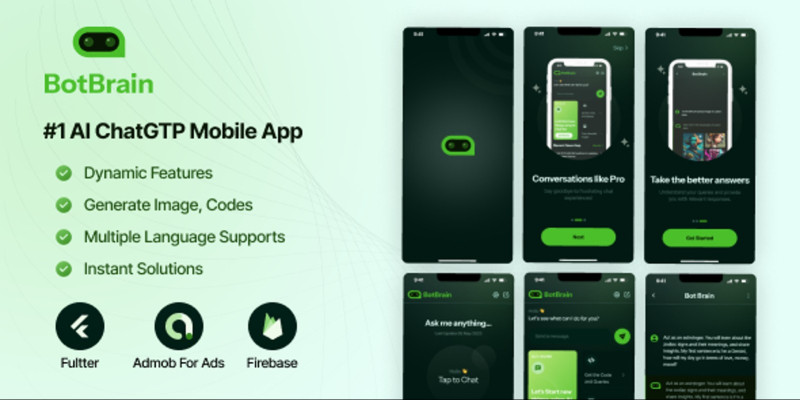 Overview
Artificial intelligence-powered BotBrain is a cutting-edge chatbot tool that offers personalised support and instant messaging to make chatting more intelligent, efficient, and tailored. Using ChatGPT, you can converse in real time with an AI-powered chatbot and receive prompt, natural-language answers to your inquiries.
Talk to a knowledgeable AI assistant: Any query you may have can be answered by an AI chatbot that resembles a personal assistant.
Demo APK :- Click here to install APK
Disclaimer: The app will use an API from https://platform.openai.com that depends on a premium service to run the models.
Features
Chat with AI.
Generate Code.
Text to image.
Download image in your storage.
Share image with your friends.
Share a content.
Multilanguage support.
Requirements
Android studio.
Flutter SDK.
Android OS (version 31+)
Instructions
Unzip package. 
Open Android Project in to android studio.