Easy WordPress Square Payment Gateway
Easy WordPress Square Payment Gateway
The Easy WordPress Square Payment Gateway plugin is all you need to start accepting credit cards quickly and easily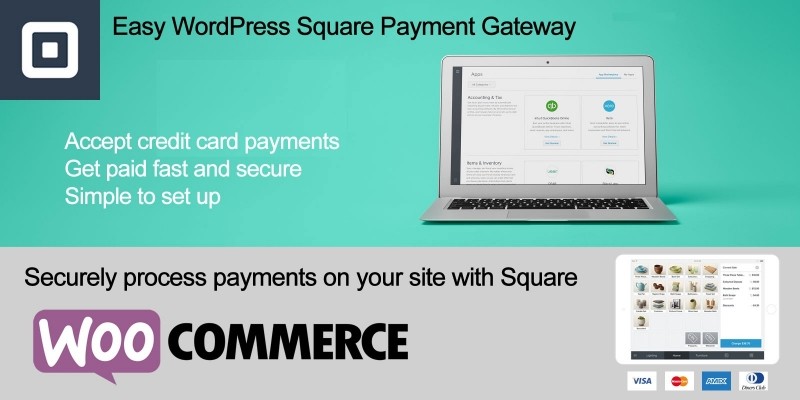 Overview
The Easy WordPress Square Payment Gateway plugin is all you need to start accepting credit cards quickly and easily on a WordPress website using WooCommerce and your Square account. All payments are processed securely via the Square payment gateway without your customer leaving your checkout page. The Square payment gateway accepts payments from Visa, MasterCard, American Express and Discover cards and will deposit the funds into your nominated bank account.
Features
Securely process credit card payments without customers leaving your site
Accept credit card payments from any country internationally
Super easy to install and configure
The Square credit card payment option is integrated into WooCommerce upon install
Allows you to only perform an Auth on the card and later perform either a Capture or Void.
Requires credit card Postal Code for added security
Requirements
WordPress 3.9.x and above with WooCommerce
An active Square account (free to setup)
A valid SSL certificate
Instructions
You install the Easy WordPress Square Payment Gateway plugin just like any other WordPress plugin. Once installed you can activate the Square payment option within WooCommerce.

Upload and install the plugin via the WordPress admin menu
Activate the plugin via the WordPress admin menu
Locate and enable the Square payment option in WooCommerce
Add the API keys you get from your valid Square account
Complete all necessary fields in the WooCommerce Square payment page
A valid SSL certificate is required to be installed on your site