Prablog - PHP Blog CMS Script
Prablog - PHP Blog CMS Script
If pragmatic blogging mode is active you just have to enter a Link and PRABLO does the rest.
Prablog - PHP Blog CMS Script
If pragmatic blogging mode is active you just have to enter a Link and PRABLO does the rest.
Overview
PRABLO - Pragmatic blogging (Smallest Blog and CMS Script ever)
If 'pragmatic blogging' Mode is active you just have to enter an Link and PRABLO does the rest. Sure you can edit the suggestion! You can't blog faster

The next buyer of this article who can give a 5 stars rating will get a free product by mail from my portfolio — Thanks for your support

WHAT'S NEW?
This Script is totaly new build up from scratch!
Hand picked — New Features
LIKE WHAT YOU SEE?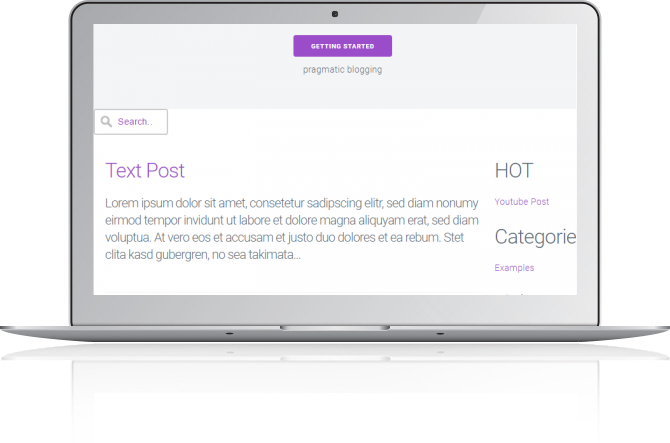 WHAT IS IT?
Advanced web-based admin system
A dozen of style and content settings
Security against MySQL injection
Support for BBCode2HTML tags for links, images, videos, etc.
Displays great on large screens and mobile devices (bootstrap based)
Optimized SEO friendly Permalinks
Simple MySQL setup (need only 1 table) use install.php
Code is full of comments and well structured
Editing is simple and intuitive
Easy to add additional content to (pages and posts)
For people who just want a simple and lightweight blog
Template based (comes with two different Themes)
Translation ready (comes with english and german)
100% Open Source - work with it as you like!
KEY-FEATURES
Modern: Responsive, Bootstrap, jQuery
Comes in some handy PHP files and some Config Files
Manual file is included in Download
... and many more! Just try our Demo to view all Features
and view full Release Notes at the End of this Page
SIMPLE SETUP
1) Unzip the file containing the Blog-System and use Windows Explorer or a similarly capable FTP program, to navigate to the location where you want the Blog to operate. (It does NOT have to be at the root level and is recommended to be placed in a new folder e.g. 'PRABLO')
2) Copy the contents of unzipped folder to the target server folder.
3) Start 'install.php' in your Browser and follow the instructions.
OR
3) Import 'database.sql' file into db using phpMyAdmin! Configure the elements in the 'settings.php' file to customize the visual design, database and account security portions of the blog!
That's it… You are ready to start!!
REQUIREMENTS
MySQL & PHP 4 or > is all you need!
HOSTING
This script does not make any use of special functions, so it will work in nearly every server environment. In case of any problems with specific hostings let me know immediately!
SUPPORT
If you run into problems please give me not a bad rate, please take a look at the documentation of the script. If you need more help, be free to contact me. I will do everything so that my product deserves a 5 star rating! All updates are included. Remember that the script will be updated regularly.

Thank you very much.
Best Regards, adilbo
DEVELOPER
Do you want to customize my script as you want? Just purchase the Extended License and shoot me a message from my profile page to let me know how you're using it. Thanks!
CHANGELOG
Version 1.0 (08.2017)
    NEW -  Release of this Script



DEMO
Username: demo
Password: demo
DOCU