Luna - Moon Phases Widget Plugin
Luna - Moon Phases Widget Plugin
Moon phases and detailed information





Average rating of

4.0

based on

1

votes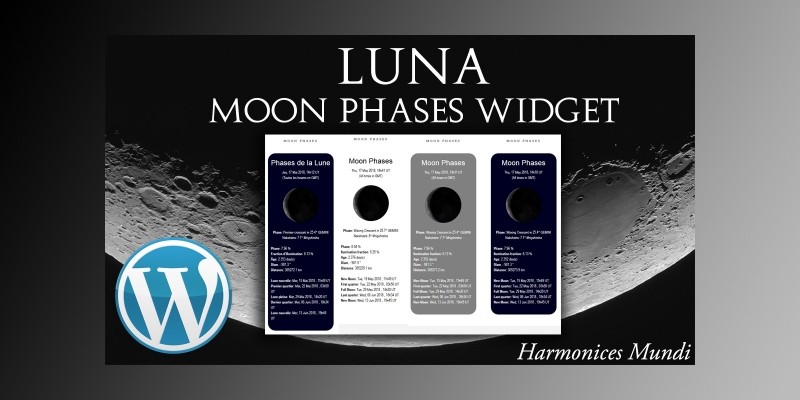 Overview
LUNA combines the beauty of a simple design, to the general and technical information you might want to know and show to your users regarding the moon in real time.
LUNA, basically calculates:
Current moon phase, with medium resolution image. Full control of the color template schemes.
Can be used both as a widget or a plugin (with full parameters).
Technical and general details, like age (in days), iluminated fraction of the disk, phase percentage, distance, angular size (in arcseconds), name of the phase, sign position in the tropical system, and nakshatra sign and position in the sidereal system (using Lahiri's system).
Previous and next phases: LUNA also displays the five major phases dates around your current time, in a cycle from one new moon to another.
Define to show correct image given a northern or southern viewer location.
The plugin can output the data in 3 languages for now: english (by default), portuguese and french.
For universitaly, times are all in UT (universal time) referred to the meridian of Greenwhich.
Features
Full detailed astronomical information.
Totally configurable.
Independent of third party services or resources.
Requirements
WordPress.
Ability to install plugins in your WPress website.
PHP 5.x
Instructions
Installation is very easy. It's just like installing a common plugin, and then use it as a simple widget or calling a shortcode.
Detailed instructions, however, are given in the documentation.
Reviews
Jan 4, 2020

Rating:

The plugin runs well, no issues with it at all. I'd like options to turn on/off things like constellation, diameter, waning/waxing. Actually, I'm not sure what "Diam." is showing - the diameter of the moon is about 31 arcminutes or about 1860 arcseconds. The plugin is saying the diameter of the moon right now (1/04/2020) is 889.1". That's not anywhere near 1860". So it would be good to have the option to turn that off or fix the calculation.
Other items by this author