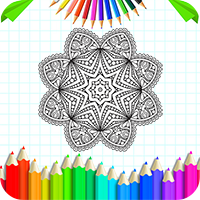 Color Book - Mandala App Template
Coloring Book kids - App Template
Overview
This is the best mandala coloring book for adults and boys and girls.
Coloring Mandalas promotes relaxation, attention, concentration and better management of stress.
Pick your color and start painting. A lot of beautiful mandalas to colorize with beautiful colors
you can choose from all the available palettes. You can even create your own palette.
When done, you can share it with your friends. Mandala Coloring Book is a free app and does not require any
internet connection. Have fun with it anywhere. Relax and be creative.
The best app for coloring book therapy,including 100+ mandala illustrations and it is ALL FREE!
This app can be used by parents and kids, everybody will find something interesting in multiple coloring categories.
Time to Bring Art into Your Life:
- Color your most memorable photo! It's never been so easy to transform any photo to a coloring book page - just import any picture you like from your photo library and start coloring right away;
- A set of handy tools to choose from: a paint bucket, a marker, a pen and an eraser - for the final touch to finish your masterpiece;
Have fun and a creative moment!
For support :
Skype : Victory Template
Email :  victorytemplate@gmail.com
1.) Maths Games - Android App Source Code
2.) Daily Fitness Workout - Android Source Code
Features
★ Google Admob integration
★ Simply tap to pick color and paint, all you need is your imagination!
★ Lots of beautiful illustrations and drawings to color, and more are coming!
★ Personalized color palettes, pick your favorite one or create your own palette !
★ Easy to save your work and share them with all your friends, whenever and however you like it!
★ Be able to save different version of your artwork for the same sketch and revisit later!
★ Pinch to zoom in/out, easy coloring!
★ Long press to pick current color
★ Works offline! No internet connection is required to relax with the best coloring book.
★ Easy Customization
Requirements
Android Studio latest version
Instructions
Color Book - Mandala App Template was created with Android Studio and code is very simple and properly commented. Method of reskining for Android Studio is explained in documentation included in bundle.