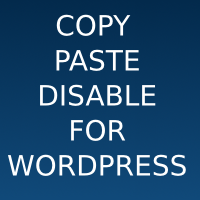 Content Copy Disable Wordpress Plugin
Content Copy Protection Plugin For Wordpress,Disable all Cut,Copy,Paste,Save, Select All,Functiones will disable from your Site.
Overview
Our team will create wordpress android app, wordpress iOS App at low price with 99.9% Approval on Google play store and Apple Store. 
New Custom Classified Ad Script - Download "SMILEY CLASSIFIED AD SCRIPT" and Start Earning. Check SMILEY CLASSIFIED ANDROID APP on GOOGLE PLAY STORE " CLICK HERE"

Content Copy Protection Plugin For Wordpress , Disable all Cut,Copy,Paste,Save, Select All,Functions will disable from your wordpress and woocommerce website.
With the Content Copy Protection Wordpress Plugin, All wordpress and woocommerce users can secure your website/Blog/News/Shopping Website/ ETC and from this plugin you will secure your website content.
In these days, every new website want more business and Maximum Visitors on Website. So if you will secure your website content, new then no one copy your content and when any visitors want post any news or blogs on your site then they will post unique content , not any copy/paste content. From that user will stay on your website and they will come again with this hope that blogger content will never be reused on oeher website . It means that website is very secure content provider website.
Now Enjoy this Content Copy Wordpress Plugin!!!
Features
Optimized code.
Simple configuration.
Increase your sales and visitors.
Custom support (I help you install it if you wish).
Cut, Copy, Paste security
Select, Select All Security
Save Security
All Above Functions are Disable From Wordpress and Woocommerce Website
Instructions
Extract 'cprcd.zip' and Upload `content_copy_protection.zip` to the `/wp-content/plugins/` directory
Activate the plugin through the 'Plugins' menu in WordPress
Open Settings Menu of your Wp-admin then you will see "Copy Protection" sub menu in Setting menu.
Click on Copy Protection Sub Menu and then configure our plugin.