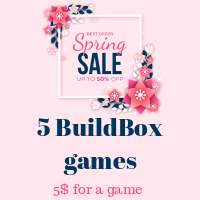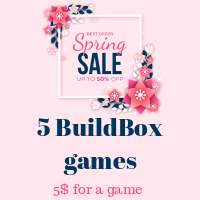 Spring Sale - 5 BuildBox Games Bundle
Spring Sale - 5 BuildBox Games Bundle
Five games made with BuildBox free plan (three 3d and two 2d games)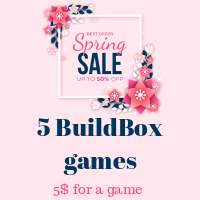 Spring Sale - 5 BuildBox Games Bundle
Five games made with BuildBox free plan (three 3d and two 2d games)
Overview
Spring Sale! Five BuildBox 2d and 3d games only for 25$ - 5$ for a game. 

Five different game templates made with a BuildBox free plan. All of them include: background music; adjusted characters, buttons, menu design and enemies animations; graphics assets; AdMob banner and AdMob interstitial to show ADS.
More about games:
Features
AdMob banner to show ADS
AdMob interstitial to show ADS
5 different templates
Ready to upload on AppStore and PlayMarket
Background music
Professional design 
High quality graphics 
3 games includes iOS file
Easy to re-skin
Adjusted buttons, characters and animations
2d and 3d included assets
Simple menu navigation
Instructions
Download 'Main files and documentation' folder, open the documentation and follow the instructions.