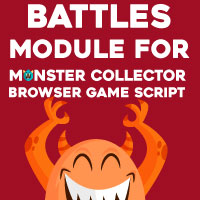 Battles Module For Monster Collector Script
Give your users the opportunity to fight each other online where the winner will take the loser's monster while you earn mone
Overview
Module Battles for Monster Collector Script
Give your users the opportunity to fight each other online where the winner will take the loser's monster while you earn monetizing the traffic generated by this attractive battle system and motivating the purchase and production of coins in the system.
---
A module that you should have
The multiplayer battles allow to increase the user's motivation to collect more and better monsters that will help them win the fights, this module adds to your site created with monster collector script more interest and gives much more sense to the powers that the monsters of fire, water and plant as well as the use of the levels of the monsters for the damage of each attack. This module will definitely help you make your monster collection site much more addictive and competitive.
---
Administrative panel
---
In the admin panel You can establish how much energy the monsters must have to be able to select them to go to battle, you can establish the amount of lives that each opponent will have in the battle, you can also configure the automatic game system.
---
How do the fights work
Players need to select a minimum of 2 monsters and a maximum of 3 monsters of different powers to go into a battle to find an opponent. Those monsters must have energy to be able to go to the fight.

When an opponent is found, the battle begins and each player will have a certain amount of time (which is set by the admin) to select which of their 3 monsters to use in this round.

When both players have selected, the monsters are revealed and the attack of the monster that wins the round is executed. To establish the winner of a round the power of the monster (fire, water or plant) is used.

This fighting system is based on the popular rock, paper and scissors. Fire beats plant, water beats fire and plant beats water.

To establish the amount of life in battle that will be subtracted from the player who loses the round, the level of the monster that wins the round is used, for example, if the monster is level 3, winning a round will subtract 3 lives from the opponent , the battle ends when one of the players runs out of lives.

The winning player will steal one of the opponent's monsters.
DEMO: https://demo2.studios23.com
Email: [email protected]
Password: admin

You can use two demo accounts at the same time to test start a battle (in incognito browser mode or in another browser)

Email: [email protected]
Password: admin
---
Would you like to see a real project working with this module? Take a look at: https://monster-eggs.com
If you have questions feel free to contact us
Features
Main features
Fun multiplayer real-time battles
Easy to understand battles
Attack system based on the popular rock, paper and scissors using the fire, water, plant powers of monsters
Players can use their monsters to go to battles
The level of the monster is used to define the damage of each attack
Pre-integrated shield system to protect monsters
Automated game system that is activated when the player does not make his move in the time selected by the admin
Players can steal monsters from each other by winning battles
English and Spanish language file (other languages can be added)
99% of the text is in a single file to be edited and translated
Installation guide
Support team available to answer questions and errors that may occur with the module
When installing the module it is automatically added to the menu and a small presentation is added on the cover
Increase user loyalty to return to your website every day
Instructions
Upload the folder "battles" from the "Source" folder of the script on your host inside the folder: play/modules/
Import the database file (SQL/battles.sql) via PHPMyAdmin into your monster collector script database