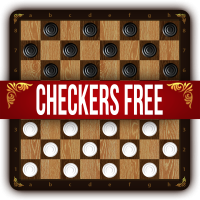 Checkers Android Source Code
You have the chance to make your own real-time PvP multiplayer Checkers game for million of players around the world.
Overview
The online game is integrated using Google Play Game Services. So, no need a dedicated server to run the game. Once you bought the codes, you just a few steps away to have a multiplayer Checkers game in your portfolio.
This game provides more than one variation of playing Checkers such as English/American, International (Polish), Brazilian (Jogo de Damas), Russian (Shashki), Malaysian (Dam Haji), Spanish (Damas) and Canadian variants. There are two modes provided; the Standard and Giveaway modes.In addition to standard 8x8 (24 pieces) board size, the game also can be played on 10x10 (40 pieces) and 12x12 (30 pieces) board sizes. The game rules can be set to suit your game play before starting any match. It can be played either against Android (CPU) or a friend both online and offline respectively.
Try a live demo here: Play store
Good luck!

Features
MAIN FEATURES: REAL-TIME PvP MULTIPLAYER
Play a real-time online match against your friends (in Google Circles).
Setup a quick match against other player via online.
Google Play Game Services and Google account are required to enable real-time multiplayer features.
MONETIZATION:
1) In-app advertising:
Admob banners + rectangle banner + interstitial
AppBrain interstitial (revenue booster due to high eCPM)
2) In-app purchases:
Remove ads (premium user)
OTHER FEATURES:
Three levels of competitive AI
Multiple Checkers variations
Two game modes; standard & giveaway
Three board sizes (8x8, 10x10 and 12x12)
Rules selection and customization
Online & offline leaderboards
Google Analytics for data collecting.
Requirements
Eclipse IDE & Android SDK
Instructions
Here is some steps for the re-skinning process:-
1) Import the game into Eclipse.
2) Update Google settings and ids.
3) Replace the images with your own graphics.
4) Rename the game package and it is ready to be published.
Don't worry, the details of setup and the re-skinning process can be found on the provided documentation.