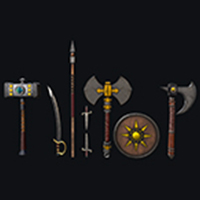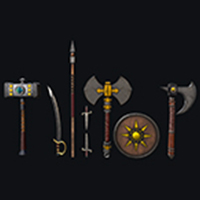 Legend Weapon 3D Objects
Legend Weapon 3D Objects
Warriors are experts with a weapon and rely on their quickness, tenacity, and thick armor to stay alive in combat. The longer warr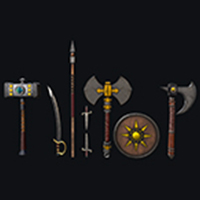 Legend Weapon 3D Objects
Warriors are experts with a weapon and rely on their quickness, tenacity, and thick armor to stay...
Overview
Warriors are experts in direct physical conflict. Their primary tool is adrenaline, which they acquire via victory in battle and utilize to power a potent burst attack that is specific to each of the several weapons they are able to employ. These warrior masters engage their foes head-on, encourage their comrades with their commanding presence in combat, and are always on the lookout for new foes to crush to dust. 
Features
Warriors need their weapons in plenty, especially in the early levels of levelling as weapon damage makes up a significant portion of your damage. You can level up, do tasks, and destroy monsters more quickly the better your weapon is. One of the finest methods to improve the damage you deliver is to upgrade your weapons. Weapons have an effect on your threat generation for tanking through damage done, rage generation, and weapon speed. Using the right weapon for each situation is one of the best ways to improve your threat generation, that's why legend weapons set is a most dangerous, fastest and most highly damager! 


This model can be applied to animated films, short films, virtual environments, augmented environments, 3-D games, and more. 
Requirements
Model Name:  Legend Weapon.
Polycounts:


o   Warrior Hammer: Vertices: 1,200, Triangles: 2,378.


o   Warrior Sword: Vertices: 1,212, Triangles: 2,400.


o   Warrior Spear: Vertices: 462, Triangles: 892.


o   Warrior Dagger 1: Vertices: 719, Triangles: 1,418.


o   Warrior Dagger 2: Vertices: 719, Triangles: 1,418.


o   Warrior Double Axe: Vertices: 1,400, Triangles: 2,714.


o   Warrior Shield: Vertices: 1,908, Triangles: 3,323.


o   Warrior Axe: Vertices: 1,244, Triangles: 2,084.


o   Total Weaponry Polycounts: Vertices: 8,864, Triangles: 16,627.
·         Textures: 1 Texture Per Weapon (At least).


o   Total Textures: 7 Textures (At least).
·         Files Format: Fbx, Obj, Blend
·         Textures Format: JPG.

Instructions
Simple steps to use this 3d model just download and enjoy this models in your 3d game , VR & AR Environment.


We Provide Fbx, Obj, Blend Format of 3d model