CSS3 Image Hover Effects
CSS3 Image Hover Effects
Easy but modern hover effects. Just copy and paste. It's pure css. No javascript.
CSS3 Image Hover Effects
Easy but modern hover effects. Just copy and paste. It's pure css. No javascript.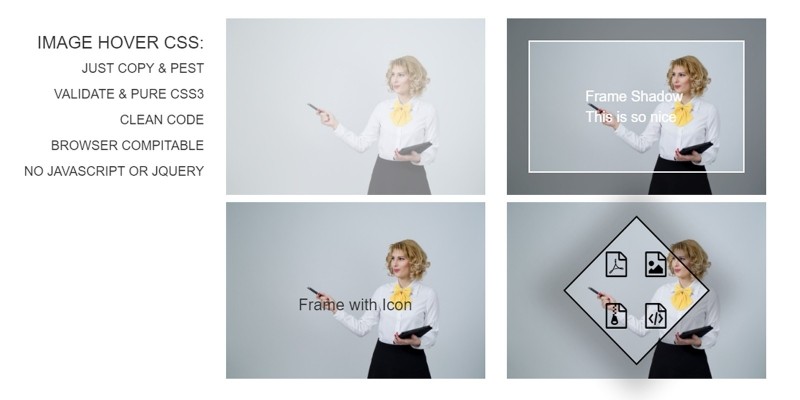 Overview
Just copy & paste effects.
It's easy but the effects are modern and eye catching. It will increase your website's impression to visitors. So you will gain more visitor. You can place the effects to anywhere to your page. And the size will be changed for it's position.
Features
Choose the best effect you like, as here several options:
Zoom In effect
Zoom Out effect
Rotate Out effect
Circle Flash effect
Reveal the caption right
Reveal the caption left_bottom
Reveal the caption from top
Reveal the flip effect
Shadow effect
Overlay effect
Frame Box
Frame Box Animate
Frame Cirle
Frame Shadow
Frame with Icon
Video Image Effect
Flip Rotate
Requirements
Requirement one
Requirement two
Requirement three
Instructions
1.FTP upload:
Open up your FTP manajer(.e.g. filezilla) and connect to your hosting
Browse to required directory, normally public_html
Open the page where ypu want to add the effect.
Then copy the html code which you like and pest it wherever you want.
Then open your .css or main styling file & copy & pest the relevent css code from my provied folder.