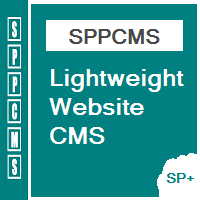 SPPcms - Lightweight Website CMS
High Quality PHP CMS running out of the Box for establishing A website in a minute.
2 Support questions or comments
Jun 21, 2019

Just purchased and installed
Console log error when clicking on "Start Editing Page" from admin page
================
Mixed Content: The page at 'https://MYDOMAIN.com/alldevs/sppcms/' was loaded over HTTPS, but requested an insecure script 'http://MYDOMAIN.com/alldevs/sppcms/_AP/vendor/ckEditor/_config.js?t=I3I7'. This request has been blocked; the content must be served over HTTPS.
=========
What/where script/file does this need an edit as it is requesting the "http" - my domain is fully "httpS"

thank you

Jun 23, 2019

Hi Coldes, Thank you for Purchasing the script. I sent you a private Message regarding the Update.
Dec 16, 2018

Hi, It is working now.
Thanks