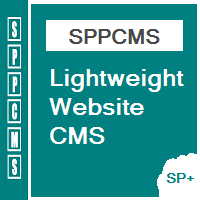 SPPcms - Lightweight Website CMS
High Quality PHP CMS running out of the Box for establishing A website in a minute.
×
This item is temporarily not available for sale
Overview
19 USD Only.
Instead of 39 USD
Big Discount 50% for the First 10 Golden Buyers. Buy today, the Price will be Increased soon.

SPPcms is perfect solution for creating Small/Medium Websites.
Never been easy to find simple, light weight and easy to use CMS.
With SPPcms you can create unlimited Pages, custmize layout, activate built in options,
install Dozens of Plugins and much more.
SPPcms has a powerful simple Admin Panel with great Features and options which makes the Administration process as easy as possible.
Features
Features:
Modern Responsive Design using Bootstrap 4
Light weight, No Database
Easy to install
Full automated (No need for extra settings)
Highly customizable, No need for Coding
Dozens of ready to use extra Plugins
Options:
Login/Logout page
Profile administration
Site settings
Layout settings for changing the look and feel of your Website
Navbar settings for controlling the menu appearance
Pages Sorting in Navbar/Footer for Order the Pages Links
Controlling the Pages Links Appearance in Menu Left/Right/Footer or Both
Contact Form - As Extra Plugin
Follow us - 20 social Buttons available
Subscribe Form - Ready to use subscribe Form with advanced options
Visitors Track System - As Extra Plugin
Media - Upload your Own logo
Manage Pages - Powerful Section for Managing all Pages in the System include the following Options Create New Page,Set Parent for Page, Chosing where to show the Page, Status, Landing Page ...etc
Plugins - Simple Powerful Built in Plugin System for Install/Uninstall/Update the Extra Plugins as needed
Maintenance - For Resting,Backup and restore your data
Update - Remote Update/Manuel Update
Users Login/Register and Adminesteration - As Extra Plugin.
Editing / Publish Page - Instant inline Page Editor for changing Pages Content and Publish them
Dozens of Extra Plugins available in demands
Auto/Manuel Updating for the CMS/Plugins
Requirements
PHP >= 5.5
No Database needed
Instructions
Install
Upload the content of sppcms folder in the Root or Sub Directory of your server.
Run the Script by typing the proper Url in the Browser.
Ex1:when installed in root director http://www.mydomain.com/
Ex2:when installed in sub director http://www.mydomain.com/subdirectory
Note: The Script will run immediately. No need for any extra setup and hassles
Login to Admin
The Script has Simple, Easy and Powerful Admin Panel enable you to control the look and feel of your Application and more.
In order to log in to the Admin Panel enter the following Url in your Browser:
Ex1:when installed in root director http://www.mydomain.com/_AD
Ex2:when installed in sub director http://www.mydomain.com/subdirectory/_AD
Login Username: admin
Login Password: admin
Note: You must change them immidiatly for security issues
Live Demo
Frontend Demo:
Click Here
Frontend Demo User Login:
Click Here
Login Username: user
Login Password: user
Note: User Login will be avialable only when the Extra Users Plugin be installed.
Backend Demo:
Click Here
Admin Username: admin
Admin Password: admin
Extra Plugins
There are Dozens of Extra Plugins available for purchase and we are ready for any special demand.
Check Our Extra Plugins List